Wood First Plus! to promote sustainable timber
Published on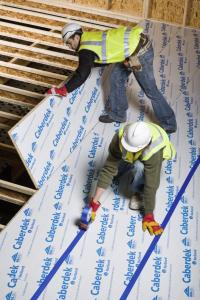 A nationwide sustainable timber campaign is entering a new phase. Wood First Plus! is the next stage of Wood For Good and aims to promote timber cladding products as a 'primary and preferred construction material' across the UK.
This means extra publicity for Norbord's wood panel products, such as
Sterling OSB
, which are already popular among the building trade for delivering quality results and high performance.
All Norbord products are also certified by the Forestry Stewardship Council (FSC) as being from legal and sustainable sources. They are easy to use and environmentally friendly, too.
Stuart Harker, managing the project from the Timber Trade Federation, said: "Environmental impacts, along with cost and performance, are going to be key customer drivers for the foreseeable future across the construction products sector."
The initiative will target carbon, life assessment and efficiency to ensure timber products are being properly promoted across the sector. As part of the project, they will consult with contractors groups, architects and professional institutions to ensure the support of the UK building industry.
"Environmental sustainability assessment is increasingly delivered through assessment of supply chains, design, construction, whole-life assessment and end-of-life aspects," said Mr Harker. "As these measurements increase in importance, so too does the demand for robust, accessible data. This project aims to deliver that."
The Wood for Good campaign chiefs hope that the additional funding means their message will reach a wider audience and be communicated clearly. David Hopkins, head of communications for Wood for Good, said: "Wood for Good, as the pan-industry communications campaign, is a natural home for this. We will be promoting the results as they become available."