First building to be made entirely from waste revealed
Published on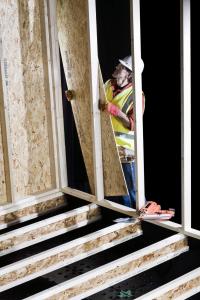 The first British building to be made out of waste products is to be constructed in Brighton this year. The building will be mainly made from waste materials gathered from local construction sites and will be erected on the Brighton University campus in the city centre.

The building has been designed by architect Duncan Baker-Brown and will demonstrate how construction waste can be used to make new building materials. A good example of this is the manufacture of wood panel products, such as Caberfloor - which is a high quality, sustainable building material made from up to 80 per cent recycled wood.

"There is a huge pile of construction waste that's building up in this country and to ignore it is quite frankly sinful," explained Mr Baker-Brown, who spoke to greenwisebusiness.co.uk about the project. The architect lectures at the arts faculty at Brighton University and has co-founded a green design company.

The structure is expected to be built in a central location where local people can get involved in the construction process and can see the materials being used in the design. As well as using recycled timber in the walls, the building will also have the latest renewable energy systems, like solar panels and whole-house ventilation.

For more information concerning the environmental and recycled credentials of Norbord products take a look here.