Engineered wooden panels rising in popularity across globe
Published on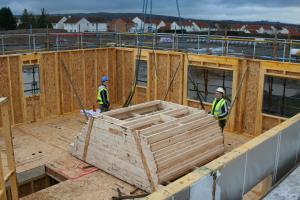 According to new research, the popularity of engineered wooden panels for use in both residential and commercial construction is continuing to see a sharp rise.
APA -The Engineered Wood Association, found that the growing interest in the structural panels had intensified in the second quarter of this year across North America. The association reported an overall year-on-year production growth of seven per cent to 6.287 million m³.
Alongside the dramatic rise in production, the output was also five per cent higher than during the first three months of this year, when 5.984 million m³ of the panels were produced across North America. Manufacturers produced 3.811 million m³ of OSB in the second three months of this year, chalking up an 11 per cent rise in production when compared to the same time period last year.
The growing interest in engineered wooden panels is coming as a result of increasing numbers of architects and housebuilders specifying the panels for both residential and commercial use. The environmentally-friendly facets of the panels are also proving popular as developers strive to create greener structures for the future.
The panels are also proving to be increasingly sought after in Europe. Recently, one of the largest wooden multi-storey buildings has been completed in Finland, proving that timber is a solid alternative construction material for such structures.
The building, which comprises 104 apartments, has been built in Viikki, Helsinki, and is composed of five timber buildings boasting a total gross floor space of 6,300 square metres. Each timber building has between three and four floors and is based on the design of the Metsä Wood Multi-Storey System.
Ari Tiukkanen, Senior Vice President Building Products, Metsä Wood, told the Lesprom Network, "The project proved that wood is an excellent alternative for industrial construction of multi-storey buildings."
"Many of the traditional challenges associated with the construction of wooden multi-storey buildings were solved. The residences in Viikki are state of the art in terms of fire safety, soundproofing, and energy-efficiency," Tiukkanen went on to say.
Sterling OSB
is a sound choice for such projects providing clear environmental and structural benefits, for further information on this product click here.