Barn retrofitted with timber frame structure
Published on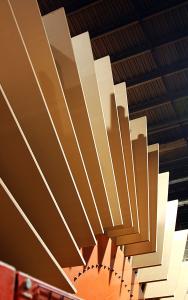 A recent report in the Green Building Press has detailed a major eco-friendly retrofit of an old barn in Huddersfield, using a timber frame structure to stabilise the building.
The insulated timber frame will be built inside the existing stone structure so that the barn appears unchanged from the outside. However, it will significantly strengthen the building while ensuring that the energy used in the project remains very low.
The designers behind the project also hope to ensure the building is airtight. They will also install mechanical ventilation with heat recovery. The new design will also stop moisture from getting through the outer stone walls and will help to prevent rising damp.
Using wood panels, such as
Caberboard
for internal features, such as flooring can be a great option for adding extra strength and support while keeping energy consumption to a minimum. These products are largely made from recycled timber. All timber is sourced from sustainable, FSC-certified timberland.
Rob Stoneman, the Chief Executive at Yorkshire Wildlife Trust, said that the project showed how retrofitting old buildings with eco-friendly, energy efficiency interiors is a great option. The barn will be used as an education centre.