Artists use MDF and chipboard in installations
Published on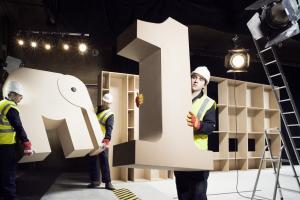 Although MDF and chipboard are usually used for more practical applications, artists exhibiting in Nottingham's Surface Gallery, are using these wood panel materials as a basis to create their innovative installations.
The exhibition includes 'lo-fi objects made of paper, MDF, felt, plaster or wool,' according to an article in the Nottingham Post. Several of the artists exhibiting their work at the gallery use wood panel materials to create sculptures and installations, as they are light-weight, sustainable and easy to work with. Matthew Smith, for example, has created his chipboard boulders as part of his Erratic Groupings sculpture. The sculpture is intended to reflect how rocks in video games look when players get too close.
Suzi Charlton, whose 'Planks (Brown) and Plank (Latex)' piece explained the thinking behind her abstract work, and behind some of the other works at the exhibition. She explained that they are about "deconstructing preconceptions of what a painting 'is'".
For more information on Norbord's chipboard and MDF products, which can be used for your own creative and decorative projects, click
here.